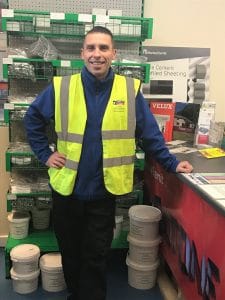 Meet Mark Hobbs who runs our trade counter at our Chatteris depot
I was born in Cambridge 26/04/81.
I am married to Frances Hobbs with two amazing boys Louis Hobbs age 15 and Jamie Hobbs age 10 and we live in Red lodge in Suffolk.
We have a black Cat called molly she is a little rascal and is certainly the Queen of the house.
What I love
First of all I love my family and doing lots of things with them, bowling cinema meals holidays etc. I love any sport playing and watching, I am a massive football fan enjoy going to watch Cambridge Utd, and still try to play every Saturday for Cherry Hinton FC in the Kershaw Premier League, occasionally scoring a few goals. I also love cricket, snooker and pool . I love having fun meeting friends going out socially, especially to the horse racing, and going to the Gym to keep fit.
What I hate 
Losing at anything.
Wasps with a vengeance stung too many times L the line don't move they won't sting you is now official ( incorrect).
Man Utd as I am a Leeds Utd Fan.
Cold Tea and Coffee.
A slow barman.
Shopping.
Sitting in standstill traffic.
And most of all missing Penalties.
What Kind of person am I
I would say that I am a kind and considerate person and I give 100% in whatever I am doing. I am confident with lots of personality and enjoy making not only myself but others smile around me with my energetic presence.
Career goals  
After being in the sporting industry all my life both playing sports professionally and for fun, coaching/ teaching  and managing in schools, tennis clubs, and working in leisure centre's. AJW has been a totally new challenge for me which I am glad I took. I am enjoying life at AJW the staff are great and there is never a minute to stop especially now I am running the new trade counter at the Chatteris depot. Being in sales is great as I enjoy meeting new people and talking to others.
I am really looking forward to progressing up the company ladder as I would like to be a sales representative on the road in the near future.
Chatteris
Unit 4-5 Tudor Rose Ind Estate
Dock Road
Chatteris
Cambridgeshire
PE16 6TY
Tel: 01354 696 888
Fax: 01354 696 889
Norwich
88 Drayton Road
Norwich
Norfolk
NR3 2DH
Tel: 01603 487 821
Fax: 01603 789 392
Essex
Unit F
Eastways Industrial Estate
Witham
Essex
CM8 3YQ
Tel: 01376 511 005
Fax: 01376 511 581
Cambridge
Units G&F. Peek House
Dales Manor Business Park
Grove Road
Sawston
Cambridge
CB22 3TJ
Tel: 01223 834 671
Fax: 01223 832 179