Purlins, Rails and Fabrications
Purlins and Rails
Our high quality purlins and rails are supplied by Kingspan, Hi-Span and Steel Sections. With Z and C sections, Eaves and other ancillary items, we can source and supply whatever purlins and rails you may need for your project.
Flashings
The construction industry demands a wide and varied range of products to finish metal buildings and close the joints where building elements meet. These include everything from standard perimeter flashings to ridge closures and drip flashings. If an attractive, functional finish is needed to complete a metal building envelope then the sensible choice for flashings is Joris IDE, formerly known as Category Cladding. Available in a range of colours, Joris IDE supply highly finished flashings that are expertly manufactured, delivered on-time and perfectly match to complement or contrast the roof and wall cladding. Ridge vent are availible for ventilated constructions, especially useful to complement the DRIPSTOP condensation control fleece.      
Cedral Lap Weatherboard
Fibre cement Cedral Lap Weatherboard external cladding is the ideal low maintenance, rot free alternative to traditional timber weatherboarding. With the visual appeal of natural timber, simplicity of installation and resistance to rot, Cedral Lap Weatherboard is an attractive, low maintenance alternative to PVCu. Cedral Lap Weatherboard can be supplied in Natural finish for site painting, or in a range of 21 factory applied solid colours and 2 woodstain finishes – providing an aesthetic option to suit many project requirements. Cedral Lap Weatherboard can be supplied in Natural finish for site painting, or in a range of 21 factory applied solid colours and 2 woodstain finishes – providing an aesthetic option to suit many project requirements.
Cedral Click Weatherboard
Fibre cement Cedral Click is the NEW innovative, low maintenance addition to the Cedral portfolio. With the same performance benefits and textured surface finish as Cedral Weatherboard, Cedral Click is the UK's first fibre cement tongue and groove weatherboard product and is fitted in a contemporary flat finish rather than shiplap. Cedral Click is supplied with a simple 'Click Clip System', which makes installation quick and easy, making it ideal for both new and refurbishment projects where time constraints are a factor. Available in seven popular colours that complement the current Cedral Weatherboard range, Cedral Click provides an alternative finish to create the perfect aesthetic for your project.
Cedral Board
An impact resistant, durable and flat soffit and fascia board. Cedral board is cost effective and easy to fix and along with our Cedral Weatherboard cladding and complementary trims, it forms part of the Cedral complete system solution. Available in the top 9 best selling Cedral Weatherboard colours. With the same performance and maintenance benefits as Cedral Weatherboard, it is the ideal partner.
Swish Cladding
We also stock products from Swish, including a full range of robust cellular PVC cladding profiles, an ideal substitute for timber cladding. PVC cladding will not discolour with time, retains its appearance, is virtually maintenance free and weather resistant and is an A+ wall system under the Code for Sustainable Homes.
Other products from Swish include…
Cellular PVC Cladding:
Robust cellular PVC cladding profiles in traditional styles, with complementary joints, trims and fixings. Cellular PVC cladding is an ideal substitute for timber cladding; it will not discolour, retains its appearance, is virtually maintenance free and is weather resistant.
Shiplap Cladding:
A traditional Shiplap cladding profile for horizontal installation.  The visible bottom edges are square. The 300mm unit is a 2 x 150mm Twin Plank profile.
Open V Cladding:
Modern cladding, with a symmetrical V groove between profiles giving a sharper appearance to the joints.  May be installed horizontally or vertically.  Ideal for use as a soffit board.
TeeGee Cladding:
An almost flush finish, tongue and groove cladding profile forming a small V groove between profiles.  May be installed horizontally or vertically.  Ideal for use as a soffit board
Feather Edge Cladding:
Mimics the traditional, overlapping feather edge style of timber cladding, providing a rounded bottom edge.  Intended for use in horizontal applications only
M-Boss Cladding:
A Shiplap cladding profile for horizontal installation with a textured surface that simulates the patterns of  a traditional timber board.
Cladding Trims:
We offer a selection of trims including – Universal Teims, Angles & Ventilators, Corners, Starters and Joints.
Fixings & Sealants:
Low Modulus Silicone (conforms to BS.5889) and  A4 stainless steel fixings.
Marley Eternit
We source, stock and supply a wide range of clay and concrete roof tiles and slates from Marley Eternit in a variety of colours, profiles and gauges.
The collection includes; Edgemere Interlocking Slate, Riven Edgemere Interlocking Slate, Due Edgemere, Interlocking Slate, Modern Interlocking Tile, Duo Modern, Interlocking Tile, EcoLogic Ludlow Major, Ludlow Major Interlocking Tile, Double Roman Interlocking Tile, Mendip Interlocking Tile, Wessex Interlocking Tile, Ashmore Interlocking Double Plain Tile, Ludlow Plus Interlocking Tile, Anglia interlocking Tile, Plain Tile, Vertigo, Rivendale, Thrutone, Birkdale, Garsdale, Canterbury Handmade, Acme Single Camber, Acme Double Camber, Hawkins Plain Tiles, Ashdowne Plain Tiles, Maxima Clay Double Roman, Melodie Clay Single Pantile, Creasing Tiles.
Redland
We stock a wide range of tiles and slates from Redland.
Natural Slate
We stock various natural slates in a variety of colours.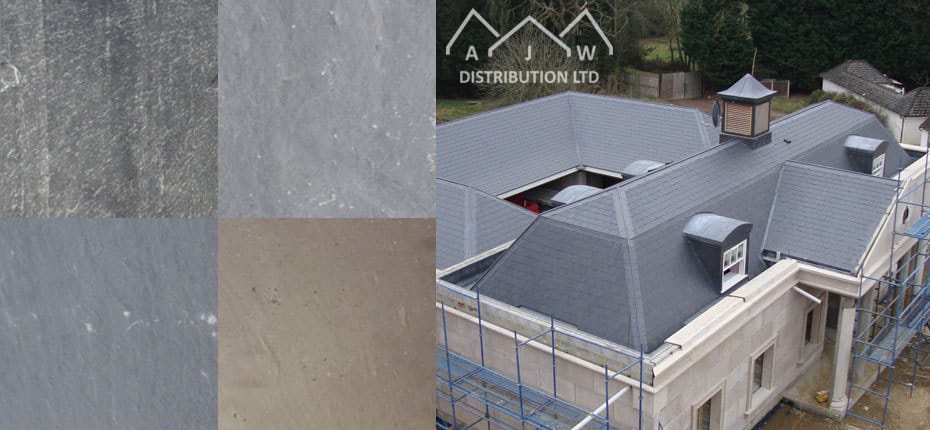 Felt
For flat roofing, we supply IKO's range of torch-applied, plus roll and pour systems which are second to none.
Torch-on membranes have an underside which has been pre-treated with a covering of thermofusible bitumen. This covering is then heated with a propane gas torch and the membrane is applied to the surface of the roof while the bitumen is still hot.
Pour and roll application involves pouring hot bitumen onto the deck, insulation, or lower layer of membrane and rolling the next layer of membrane into it.
We supply shed felt, cap sheet and underlay.
Bitumen Kegs
Bitumen kegs are available in sizes 95/25 – 40 kilo. Kegs are used for roll and pour felt.
Cure It GRP System
Total GRP system from Cure-It
Roofing Batten
JB-RED is a premier roofing & tiling batten from John Brash and is the first full pre-graded roofing batten available to the roofing industry. This means there is no need to grade the battens on site thus saving time for the roofing contractor.
Available in a wide range of span sizes to suit different applications.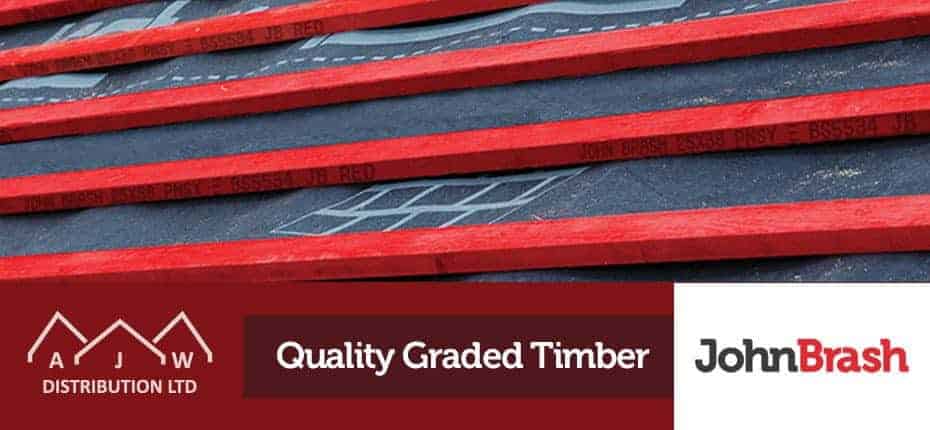 Batten
We stock JB-I Traditional Sawn Timber Batten from John Brash
Cedar Shingles
We sell Western Red Cedar Shingles for Roofs & Wall Cladding from John Brash
GPR Rooflights
We supply high quality natural daylight Industrial Rooflights for metal clad industrial buildings from Brett Martin and Filon. Industrial rooflights range reduces the need for artificial light, saving energy and reducing the carbon footprint of any industrial building. The industrial rooflight range includes options in GRP and polycarbonate to match any corrugated metal roofing and cladding system for simple single skin installation or as insulating composite panels delivered direct to site for assembly or as ready to fit factory assembled Energysavers.
Products include: Safelight, Trilite Ultra, Trilite, Farmlite GRP, Cleartherm 2, Corrugated Polycarbonate Sheet and a range of GRP products from Filon.
Dome Rooflights
We sell Dome Rooflights for Flat Roofs from Brett Martin.
Windows
We stock a large range of windows from VELUX.
PVC Rooflights
We sell a collection of PVC Rooflight products from Arial Plastics including; Vista Lux, Corolux and Trilite
Insulation
Good quality insulation is a critical part of any build to ensure high scoring environmental certification and reduce running costs for a building. We source and supply quality materials from Encon, including; Celotax Foil-faced Insulation Board, Multi-Roll Mineral Fibre Glass and TLX Multi Foils.
Celotex GA4000 is a general purpose insulation board for floors, walls and roofs. It has long been at the heart of the Celotex product range providing the user with a range of thermal insulation solutions. With low emissivity foil facings, GA4000 is manufactured from rigid polyisocyanurate (PIR) using a blend of blowing agents that have zero ozone depletion potential (zero ODP) and low global warming potential (GWP).
Multi-Roll 44 & Multi-Roll 40 is a lightweight, non-combustible mineral wool roll, designed to provide thermal and acoustic insulation in lofts. The rolls can be used in any other application where a lightweight insulation is required and may be split to allow the user the choice of any of the three commonly required widths. Manufactured from recycled glass bottles, Multi-Roll 44 & Multi-Roll 40 is strong, flexible and resistant.
TLX Gold is a unique all-in-one heavy duty roofing tile underlay and breathable multi-foil that makes re-roofing an existing loft room or upgrading insulation easier. The product can be installed as a single layer over existing insulation and delivers insulation improvements to buildings where previous upgrades were impractical. In particular the product enables the roof line of a property to be maintained.
Solutions
We sell solutions and sealant from Cromar and Brett Martin.
Tape
We sell tape a range of tapes such as; EDPM Tape, Expanding Foam Tape, Cloth Tape, Aluminium Foil tape, PVC Tape, Moisture seal tape, PPDA Double sided tape, all from Brett Martin for
Breather Membrane
We sell breather membrane from Klober.
Dry Fix Systems
We sell dry fixing systems from Permavent.
Tile Vents
We sell tile vents from Klober including; Flat Tile Vent, 15 x 9 Tile Vent, Single Pantile, Limarech Vent, Double Pantile Vent, Double Roman Vent, Twin Plain Tile Vent, Clay Plain Tile Vent, Uni-Plain Tile Vent, Uni-Line Tile Vent, Universal Vent Tile.
Lead
We sell lead from ALM.
Lead Replacement
We sell lead replacement from Ubiflex.
Gas
We sell gas products from Flowgas.
Industrial PVC
Brett Martin's continued investment in product research development and customer service has resulted in the achievement of a Rainwater range which satisfies every variety of roof drainage, ranging from the smallest domestic property to much larger agricultural and commercial buildings providing the merchant, installer and the end user with satisfaction, peace of mind and a full guarantee.
The Industrial PVC Rainwater System includes; Rainwater Prostyle, Rainwater Squarestyle, Rainwater, Roundstyle, Rainwater High Capacity, Rainwater Deepstyle, Rainwater Industrial
Chatteris
Unit 4-5 Tudor Rose Ind Estate
Dock Road
Chatteris
Cambridgeshire
PE16 6TY
Tel: 01354 696 888
Fax: 01354 696 889
Norwich
88 Drayton Road
Norwich
Norfolk
NR3 2DH
Tel: 01603 487 821
Fax: 01603 789 392
Essex
Unit F
Eastways Industrial Estate
Witham
Essex
CM8 3YQ
Tel: 01376 511 005
Fax: 01376 511 581
Cambridge
Units G&F. Peek House
Dales Manor Business Park
Grove Road
Sawston
Cambridge
CB22 3TJ
Tel: 01223 834 671
Fax: 01223 832 179