What is QuadCore™ and what benefits can it bring to your project?
Innovation is an everyday occurrence in the construction industry. If we look back over just the last decade, there have been huge shifts in regulatory requirements and consumer expectations which have led to significant advancements in the way we design, deliver and look after our buildings, from the rise of digitalisation to the urgent need to react to the climate crisis. As a product manufacturer, we see it as our responsibility to help contractors to stay ahead of these changes by bringing products to market which can meet tomorrow's requirements, such as QuadCore™ insulation. We have been working to bring this technology to an increasing number of our panelised systems.
But what actually is QuadCore™?
Developed for performance
Kingspan QuadCore™ is a closed-cell insulation core. It was created by our research and development team to offer enhanced performance across four key factors (hence the name!):
1) Thermal
The closed cell structure within the core helps to achieve a thermal transfer (known as a lambda value or thermal conductivity) of just 0.018 W/mK for the complete insulated panel. To put this in context, man-made mineral fibre has 89% more thermal transfer than QuadCore™, based on the same thickness. The panels are designed to easily fit together with a factory-engineered jointing system that ensures airtightness and insulation continuity, whilst also speeding up the construction process. This allows the building to better maintain its internal temperatures, without heavy reliance on mechanical heating or cooling systems.
The high thermal performance means that thinner insulated panels can be used to achieve the targeted U-values, increasing useable space. Alternatively, enhanced performance can be offered for the same thickness as a lower performing material. This may help to achieve high ratings under systems such as BREEAM.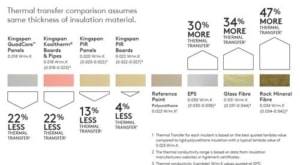 2) Fire
QuadCore™ insulated panels have been subjected to rigorous large-scale system tests and are insurer approved to FM and LPCB standards. For example, certain QuadCore™ systems have also achieved FM 4882, certifying that they are suitable for smoke sensitive constructions.
3) Longevity
QuadCore™ systems are available with a 40-year warranty for thermal, structural, acoustic and coating performance. This provides ongoing peace of mind for both you and your client.
4) Environmental
As QuadCore™ can achieve lower thermal conductivities, we can create thinner panels which can be manufactured quicker, using less energy and fewer raw materials, reducing carbon emissions and optimising natural resource use. The reduced thickness of the panels also means that more panels can be transported to site at once, saving on emissions from multiple trips. The product also contains 20%-25% recycled steel and, as part of our Planet Passionate pledge, we are looking into ways to incorporate upcycled PET plastic from consumer plastic waste in all QuadCore™ insulation by 2025.
Ready for the future
Whilst no one can predict the future, constructing our buildings to meet the highest possible standards is a good way to ensure that they are prepared to meet any potential developments and ultimately retain their value. Selecting panelised systems that contain QuadCore™ insulation is a simple way for contractors, big and small, to begin to deliver projects which will continue to perform to a high standard long after they are built.
https://ajwdistribution.com/wp-content/uploads/2020/08/QuadCore_video_render_042017.jpg
800
1800
AJW
https://ajwdistribution.com/wp-content/uploads/2019/12/ajw-logo-small-300x138.png
AJW
2020-11-06 08:39:26
2021-06-30 15:21:19
What is QuadCore™ and what benefits can it bring to your project?